Sauber. Macher. Innen. Cleaners. Male. Female.
Video. ca. 2.30 min., oberösterreichisch mit englischen Untertiteln, 2001
Video, ca. 2.30 min., original version with English subtitles, 2001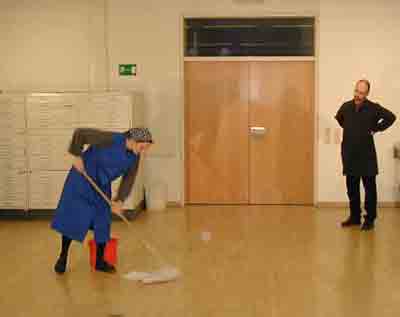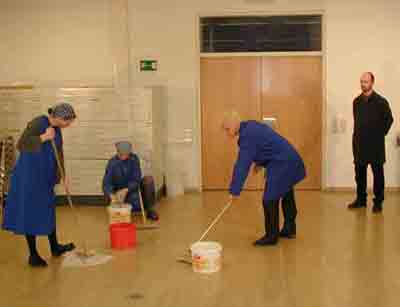 Änderungen in einem Aufwisch

"wos derf i denn putzn?" * , fragt die Putzfrau (in blau) den Hausmeister (in schwarz).
"des do", antwortet er und zeigt auf den blitzblanken Boden. Ein kurzer, wortkarger
Dialog entsteht. Sie beginnt zu putzen. Nach und nach treffen fünf weitere Putzmänner
und -frauen ein, mit denen exakt der gleiche Dialog geführt wird. Einziger Unterschied:
In der ersten Frage verändern sich jeweils die Modalverben. Der Raum füllt sich immer
mehr mit putzen dürfenden, könnenden, mögenden, müssenden, sollenden, wollenden
Frauen und Männern, die den ohnehin schon spiegelnden Boden schrubben. Grundsätzlich
liegt die Aufgabe von Modalverben darin, in Verbindung mit einem Infinitiv - hier "putzen"
- ein anderes Sein und Geschehen zu modifizieren, also die Art und Weise, wie und aus
welcher Motivation heraus etwas gemacht wird, näher zu bestimmen. So unterscheiden
sich zum Beispiel "putzen wollen" und "putzen müssen" dadurch radikal, daß bei
letzterem zumindest eine zweite Instanz vorhanden sein muß, die zur Handlung zwingt,
wohingegen "wollen" eine freie Entscheidung impliziert.
Daß in diesem Video das Putzen kaum eine freiwillige Tätigkeit ist, macht nicht nur der
Hausmeister als Auftraggeber und Kontrollorgan deutlich. Auch die teilnahmslosen
Gesichter des Reinigungspersonals, das seine Aufgabe beinahe schicksalshaft ausübt,
führen die jeweils veränderten Modalverben ad absurdum. Ob sie wollen, können,
dürfen oder sollen, letzten Endes verrichten sie die gleiche sinnlose Arbeit.
Herbert Stögers "SaubermacherInnen" sind ganz gewöhnliche ArbeitnehmerInnen,
die, ohne die Sinnhaftigkeit ihrer Tätigkeit zu hinterfragen, brav mitspielen im vor
Absurdität strotzenden Welttheater; und die veränderten Modalverben dienen lediglich
dazu, den Schein von individueller Motivation zu wahren. Das System funktioniert.

Nachdem der Hauswart seine Kontrollrunde um die putzende Gruppe gegangen ist,
stellt sich die Putzkolonne in einer Reihe auf und beginnt synchron hin und her zu
wanken. Der Hauswart befindet sich am linken Rand und wankt mit. Denn, obwohl
er hierarchisch über den Putzenden zu stehen scheint, ist er letztlich eine ebenso
tragikomische Figur in diesem Stück.

Angelika Bartl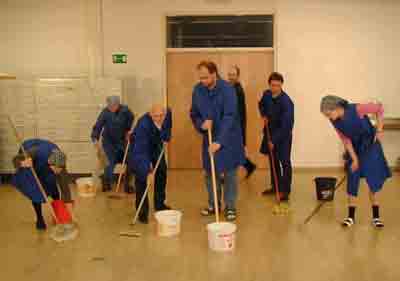 "Changes in one Sweep"

"what can I clean?"* asks the cleaner woman (in blue) the caretaker (in black).
"this here", he answers and points to the squeaky clean floor. The result is a
short and taciturn dialogue. She starts cleaning. Gradually five further female
and male cleaners arrive, with whom exactly the same dialogue is had. Only
difference: In the first question the modal verb change each time. Little by
little the room is filled with women and men, who may, can, will, must, should,
could to clean the already shiny floor.
The task of modal verb lies basically in creating a connection with an infinitive
– here "to clean"" – to modify another Being and Happening, in other words
to define more precisely the way something is done and the motivation for it.
In this example "want to clean" and "must clean" differ radically in that the
latter needs at least one other authority, which forces the action; "want" on
the other hand implies a free decision.
That in a video Cleaning is hardly a voluntary activity is not only made clear
by the caretaker as the one who gives orders and controls. Also the indifferent
looking faces of the cleaning staff, who fatefully fulfil their task, lead the
changing modal verbs to the absurd. No matter if they want, can, may or should,
at the end of the day they are doing the same monotonous pointless job.
Herbert Stögers "Sauber.Macher.Innen" ("Male.Female.Cleaners") are ordinary
employees, who play their well-behaved role in the world theatre, which is
bursting with absurdity, without questioning the point of their activity.
The changing modal verbs serve the simple purpose to keep up the
appearance of individual motivation. The system works.
After the caretaker does his patrol around the cleaning group, the cleaning
team lines up in a row and start to sway synchronously. The caretaker is
on the left edge and joins in the swaying. Although, hierarchically his position
seems to be above the cleaners, he is in the end just as tragicomic in this play.*
To make the dialogue, which is spoken in the colloquial language of Linz,
internationally understandable, English subtitles will be shown.
Angelika Bartl

* Um den Dialog, der in linzer Umgangssprache geführt wird, auch, international
verständlich zu machen, sind englische Untertitel eingeblendet.

Putzkollone - Cleaning team: Agnes Traxler, Helene Stockinger, Robert Blöchl,
Günther Lainer, Isabella Stütz, Josef Stockinger, Herbert Christian Stöger
Kamera/Schnitt - Camera/cut: Andreas Schneeberger